For the last 25 years, Pro-Active have specialised in co-ordination and management of live broadcasts from a range of events around the world, providing production solutions to suit budgets both large and small.

Pro-Active have arranged and/or co-ordinated the facilities for over 20 outside broadcasts in the last two years and continue to work around the world with local facilities or host providers where required.
(see Client List and Recent Projects)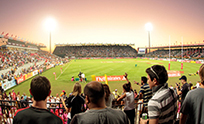 DUBAI 7's
Live world feed for World Rugby and Emirates - 14 cameras, two simultaneous pitches, with separate broadcast, webstream and big screen production areas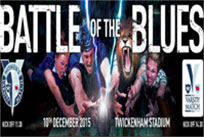 THE VARSITY MATCH
The Varsity Match - 9 camera co-production with BBC for live BBC2 broadcast and world feed broadcasters + live international webstream

We are experienced in creating the required personalisation of coverage to suit our clients, working alongside leading host broadcasters to provide the complete technical and presentation solution from studio to pitchside.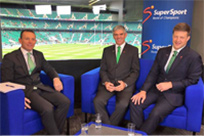 SUPERSPORT/RUGBY WORLD CUP
Supply of studio presentation with 3 cameras, + pitchside presentation + flash zone interviews, taking in host coverage but with unilateral replays, graphics & commentary and comms to JoBurg utilising our new mini OB van ( see below )

Some of the sports we deal with don't always have easily available local facilities and that's when we need to apply our experience of providing lightweight capability to produce live, news or highlights output for both broadcast and social media.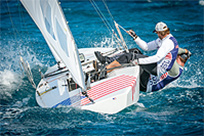 STAR SAILING LEAGUE
Bahamas and Europe - live on-water cameras, 3D virtual graphics, 2 person commentary, on-water reporter and daily edit for broadcast news and social media output.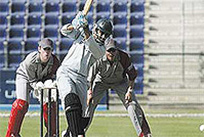 EMIRATES T20 CRICKET
Dubai - 4 camera coverage, graphics and local commentary for live international webstream + separate big screen output.

And now, we have developed our own Mini OB van, using the benefits of more powerful but smaller technology to offer maximum capability that answers to the growing demand for lightweight but flexible webstream and broadcast facilities at the best cost.
(See below for more details)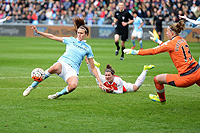 FA WOMEN'S SUPERLEAGUE
Fast reaction service to deliver 4 camera live coverage for the input Media to create BBC and BT Highlights shows.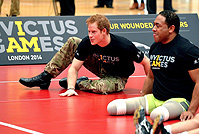 GAMECHANGERS
4 camera + 2 minicam "as live" on location studio production for Sky UK gameshow featuring HRH Prince Harry.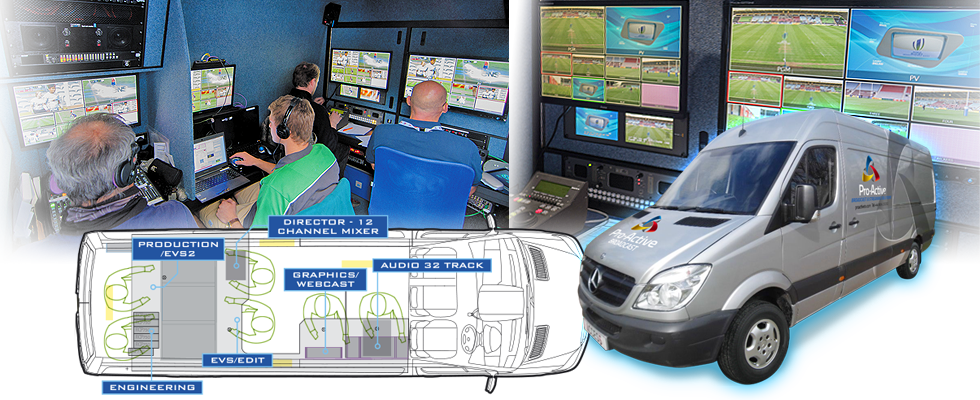 OUR NEW MINI OB RIG IS READY TO GO WHERE YOU NEED IT.
Based on the latest technology cameras, we offer full HD broadcast specification, but in its lightest format-and that means cost-savings
Coupled with our extensive TV and webcasting experience, we now offer a package that delivers live broadcast or webstream or both, with the option to take HD quality recordings and make a broadcast highlights programme post event.
And in addition we can supply separate output for big screens at the event, upload features to the web and cut post-event news for digital and broadcast takers.
Our new lightweight but powerful van offers 1 to 8 cameras, with graphics, slo-mo replay, audio and commentary positions - all the elements of a dependable TV broadcast from a climate-controlled, professional environment.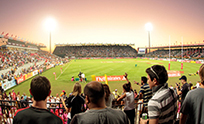 SPORT
20+ years providing OB for major events worldwide - latest project 2015 Womens 7 World Series Rugby: 5-cam stream & broadcast, comms, ref mic, pitchside interviews, graphics & stats, dual EVS + edit room feeds, Judicial, team analysts and big screen/scoreboard.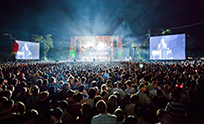 EVENTS
Live concerts, festivals-we'll provide an affordable integrated solution for all your outdoor performance requirements, from big-screen onsite coverage right through to streaming and broadcast output.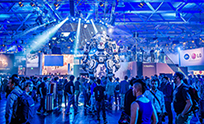 CORPORATE
Exhibitions, conferences, awards ceremony or press call-making sure the message gets across in a professional manner is our business, live to screens, web or TV.
PROFESSIONALLY COACH-BUILT VEHICLE WITH DUAL AIR-CONDITIONING SYSTEMS
COMPREHENSIVE MONITORING IN ALL OPERATIONAL POSITIONS
AUDIO
Behringer X32 with ADAT capability
Remote mic amps and separate monitoring for Sound & Director
Dual 8-channel embedders for multi-language events
Full RTS talkback with 2 remote panels - further on request
6 effects mics + radio mics + interview set - further on request
Equipped for dual commentary with lazy talkback
Graphics to client requirement
Webstreaming and sub-mixer desk capability: Newtek Tricaster
VIDEO
Up to 8 HD cameras (6 racked) + 2 5Ghz RF links
Range of broadcast lenses available to order
Six cameras fully controlled inc tally's and talkback
Dual HDRs: Apple ProRes/Avid DNxHD, plus separate H264 recorder
12-channel video synchronizer for unlocked sources
ST fibre for external signal distribution
JVC KMH3000 12-channel video switcher
40 x 40 routing matrix with comprehensive video and audio patching
Newtek 3Play 8-Ch or capability for 2 EVS servers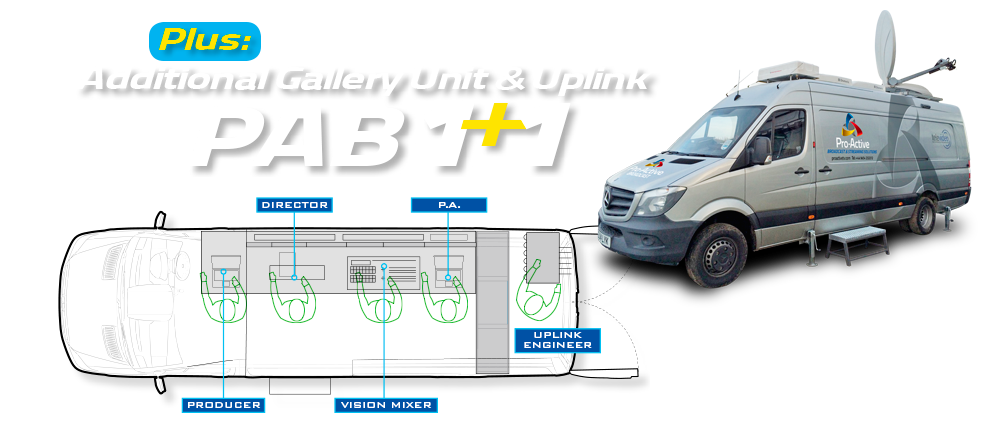 EXPANSION MODULE...
Available to expand the capability of our primary OB unit, PAB+1 is a further Mercedes Sprinter-based facility designed to provide an additional gallery area while providing a fully-redundant, HD dual-path KU band uplink. The main engineering functions - racks, audio & replay - remain with PAB1, offering much more space for production management in this dedicated gallery.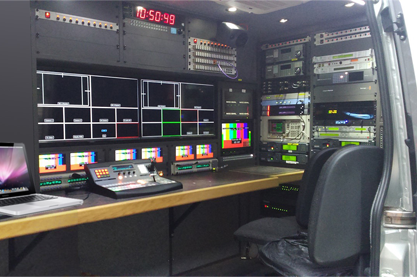 PRODUCTION
20 image HD monitor stack on 2 x 37" flatscreen displays +6 additional preview monitors.
RF
Dual path fully redundant KU band uplink.
1.5m Advent Antenna.
2 x Xicom 400W HPAs.
4 x Ericsson E8040 MPEG4 Encoders: HD/SD DVB/DVBS2, QPSK/8PSK, 4:2:2/4:2:0, Dolby E, BISS encryption.
2 x Ericsson RX8200 receiver (BISS decryption) DVB-S, DVB-S2, QPSK/8PSK.
Freesat and Freeview off-air receivers.
MODULER LAYOUTS
Our modular approach allows for a variety of layouts to best suite the environment on the ground and space allocation.